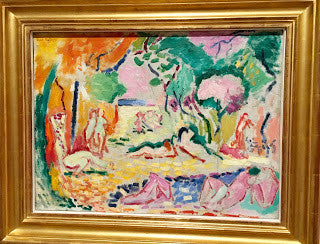 I had a terrific morning last week at the San Francisco Museum of Modern Art.  Seeing original works from famous artists I've learned about over the years always gives me a chill.  Standing two feet away and admiring paintings from Picasso, Matisse and O'Keeffe was just awesome!
 I particularly enjoyed seeing Matisse's examples of "Fauvism."  In the early 20th Century, several French artists challenged conventional methods and painted using vivid color and bold brush strokes.  This early modern style was criticized by many and the artists were referred to as "wild beasts" or "Les Fauves."
Matisse's "Woman with a Hat" (1905) is one of the most well-known examples of Fauvism.
For me, the use of unexpected color and freedom of form is so intriguing.  I love their brave interpretations of the subject matter.  It's certainly inspirational for me as I move along in my painting journey.