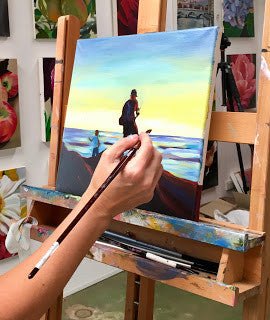 Wow, my Australian adventure was awesome!  
The 2 weeks went by so fast and the whole experience was even better than I had imagined.  Spring in Kapunda was magnificent, I've never seen such beautiful roses bursting out of gardens onto the sidewalks. There were "chooks" (chickens) running about and, yes, I saw some kangaroos too!

It was the perfect setting to get lost in painting. With guidance from Jacqueline Coates, I explored my love of color, mixing every shade of blue, green, red, yellow ... finding combinations that would jump from the canvas as I painted.  I was excited to use reference photos I brought from my hometown of Rockport, MA.  I love the beach and ocean and all of the bold bright colors of buoys, boats and fishing shacks.  This is an exciting new subject matter that has endless possibilities for me. 
I also enjoyed trying some new things ...  like gold leaf, water based oils, impasto with palette knife.  So fun!!
It was a wonderful trip and learning experience for me.
I must say though, it's great to be home :)