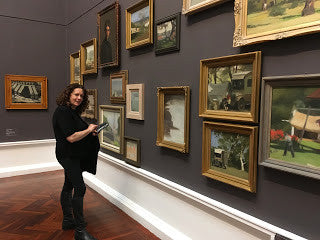 After a very long 30 hours of travel, I arrived in Adelaide, South Australia. Jac met me at the airport and took me around Adelaide to see the sights.  We enjoyed some time walking through the Art Gallery of South Australia where Jac pointed out some of the works from well-known Australian artists.
 We then made our way through the countryside to beautiful Kapunda in the Barossa.  Our first stop was at Salon Rouge Gallery which is where I'll be painting for the next week and a half.  
It's everything I expected ... an open and inviting space filled with gorgeous paintings. Just stepping inside makes you want to roll up your sleeves and create!!  Jac's works are truly inspirational and incredible motivation for me to work hard and get the most out of this experience.
---
---